New to The Memo? Subscribe here…
Issue #3 | July 27, 2020 | Read Time: 3:00
Issue 3: How to market in a post-COVID world (PLUS 10 tips for pivoting when things aren't working out)
Pivots, reboots, and throwing out old "cables"…
…this week's Memo is all about adapting to (and profiting from) change.
And speaking of change, one of our co-founders, Ryan Deiss, is hosting a challenge this week that's all about simplifying your marketing funnels and engineering a "Post-COVID Reboot." If you're looking for a brand-new way to
generate customers from scratch, you should check it out.
Ok, let's dig in…
THREE THINGS YOU NEED TO KNOW:
Thing #1: Does your marketing plan need a Post-COVID reboot?
It goes without saying that COVID-19 has changed the way we live and work, so here are three tips for rebooting your marketing to prepare for the "Next Normal."
Tip #1: Be real in your marketing – Over-produced images and canned ad copy are out…iPhone videos and "tell it like it is" copy is in. The lesson? Match your tone and visuals to the world we're all living in. Check out this post from our buddy at MarketingExamples for some examples you can model.
Tip #2: Encourage "Grazing and Hoarding" – Pre-COVID-19, purchase habits followed a normal distribution curve where lower-priced products sold more, higher-priced products sold fewer, and mid-range products fell somewhere in the middle in terms of purchase frequency.
Post-COVID-19, we are seeing greater purchase frequency for low-priced products (a.k.a. "grazing"), AND an increased purchase frequency of higher-priced products/higher average cart values (a.k.a. "hoarding").
Mid-priced offers/ACVs have fallen off a cliff…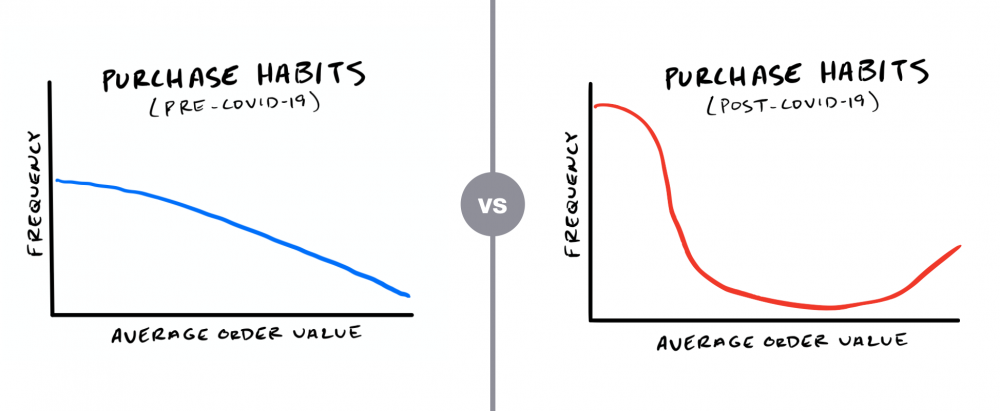 The lesson? Start low and ascend quickly…during times of crisis, there's no money in the middle. Click here to join the discussion on Twitter…
Tip #3: Simplify your funnel – Just because you can automate almost everything these days, that doesn't mean you should. With a new crisis hitting the news nearly every week, that clever follow-up series you wrote back in January can sound downright tone-deaf if you aren't careful. The lesson? Gain some much-needed agility during these complicated times by making your funnels as simple as possible.
SIDE NOTE: Our founder, Ryan Deiss, is hosting a live "challenge" this week that's all about creating a marketing funnel so simple it will "literally fit on a napkin." Click here for details and to register your spot…
Our co-founder, Roland Frasier, suggests you ask yourself these 10 "pivot questions" the next time you're feeling stuck and things just aren't working out…
Can we zoom in? (focus on a niche audience within your broader audience)
Can we zoom out? (take a niche product and reposition it for a broader audience)
Can we improve our pricing, margins, or performance by adding new technology?
Can we test a different sales channel? (direct sales vs. affiliates/wholesale vs. marketplace)
Can we change our distribution channel? (ex. license IP to someone else to fulfill)
Is there some kind of revenue model that we haven't considered? (ex. subscription, a la carte, metered, etc.)
Can we change our growth engine from viral-first to paid-first, or visa-versa?
Who might want our failed tests and by-products? (ex. Post-It Notes were created when a team at 3M "failed" to create an "unbreakable glue." Fortunately for them, a glue that "broke easily" was even more valuable.)
Can we take our existing products or services to a completely new market?
Can we shift from low-volume/high-margin to high-volume/low-margin, or vice-versa?
TIP: Listen to this podcast episode with your entire leadership team, and brainstorm ideas as a group.
Thing #3: Maybe it's time to throw out those old cables…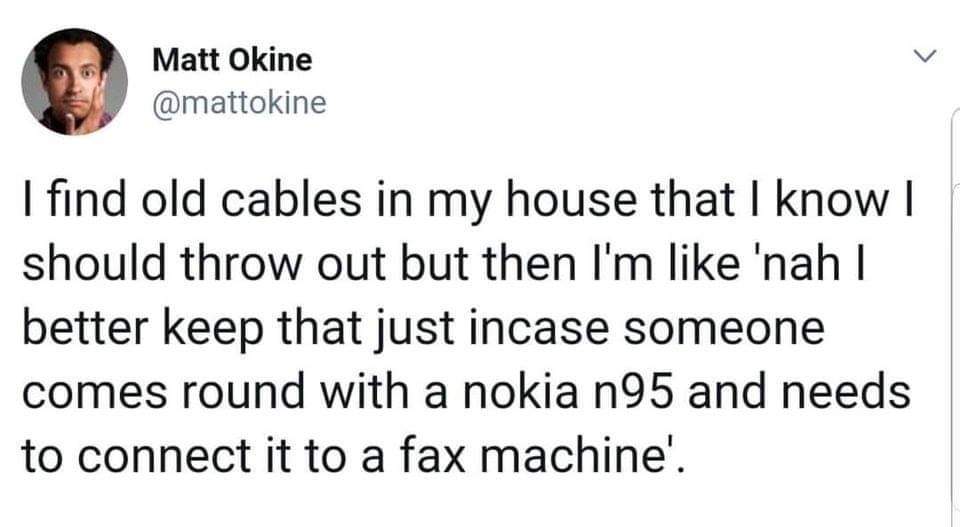 It's a funny tweet, until you realize that "cables" come in many forms…
There are actual cables, of course, but "cables" can also be gadgets, plans, and even relationships.
So, what "cables" are you holding onto from your "old normal" that no longer have a place in your "next normal?"
CLICK THESE LINKS:
READ THIS BOOK: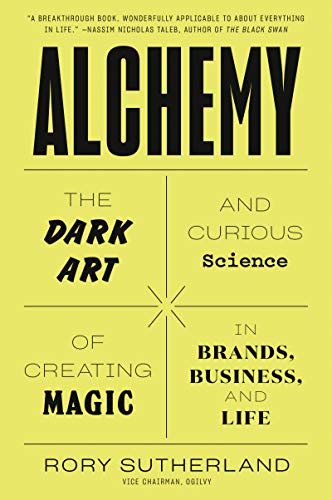 Alchemy will change the way you think about the role (and importance) of marketing in society, and in times like these, it's more important than ever for marketers and entrepreneurs to understand how valuable they can be in altering human thought and action.
---
I hope you enjoyed this week's issue. If you didn't, we'll try to do better next week. If you did, could you do me a favor and share it with 3 friends and colleagues?
It would mean the world to us.
Thanks. 🙂

Ryan Deiss
Co-Founder & CEO
Scalable.co
P.S. If you like the memo, you'll LOVE being an Insider.
Click here to learn more about our premium membership, and see how you can get instant access to our flagship training, "The Scalable Operating System" for just $10.
---
What is The Memo (a.k.a. the thing you're reading right now)?
Every week, my partners and I send an email memo to our internal executive leaders (the people running our companies) sharing news and insights we believe they should know. Sometimes it's an interesting article…sometimes it's a new thought or idea…but it's always something timely, tactical, and actionable.
Now, you can get the same memo…and you don't even have to sell us your company. 🙂
What is The Scalable Company?
The Scalable Company is a collective of founders and entrepreneurs who have no idea what they're doing, and are willing to admit it. You can read our "Accidental Entrepreneur Manifesto" here, and peruse our internal "wiki" of resources and best practices here.
---